To fulfill the LAS protocol I took a class called HST, The American Experience. In class we learned a lot about the history of America and it's residents. We analyzed the dynamics of America and immigration there. Looking at different immigration waves we got to see different nationalities, as well as the repercussions they faced after being in America like discrimination or injustices.
An assignment we did was to research an immigration period or a certain group of immigrants. There was no rigid guidelines to follow, the reins were free on this one. I thought it was fascinating to use this assignment to dig deeper into my ancestors and where they came from. I myself am a walking example of a melting pot being many nationalities, but for this project I choose my Polish descent. I got to learn about the hardships they faced just getting to America, as well as when they got here. My ancestors worked very hard to make a living and to eventually try to be somebody. Now, I live representing my ancestors and I am honored to come from hardworking immigrants. Also, I am grateful. Grateful for the freedoms I have that my ancestors did not. I am grateful for in general having an easy life, where there is labor laws, actual freedom of speech, and many other resources put into place to make sure that a person is not abused of their rights.
Another assignment I did was to pick an immigrant that came to America and was a leader and contributed to the country. I learned about an incredible women. She faced many hardships in her life, but she never dwelled on them she just gave more to others. She understood the importance of being a part of something bigger than yourself and that your small tribulations are nothing compared to what could be fixed in the world. This incredible human was Mother Mary Jones. She got the nickname Mother Jones because of the care and dedication she gave to others, especially labor workers. She lived from 1830-1930, just at the beginning of gaining women's rights. She was a strong women and that was feared by many. She was considered the most dangerous women in America. Mary was threatened to be sent to prison or even killed, but she didn't care she kept fighting for labor workers rights. Her dedication and passion was exemplified when she went to a labor strike site at the age of 82! The strike got violent and she was arrested and sentenced to prison for 20 years, however her followers convinced the governor to let her out on pardon.  Mary could have spent the rest of her life in jail and that did not scare her because she went right back to organizing labor workers. Mother Mary Jones was a true leader. She led with passion and dedication. For the future I want to work at being more like Mother Jones. First, I want to find a cause I am passionate about. I want to have the courage to stir trouble and not be afraid of what other people have to say. When and if I turn 82 I want to be just as driven and dedicated to my purpose, just like Mary because a purpose in life should never be given up on.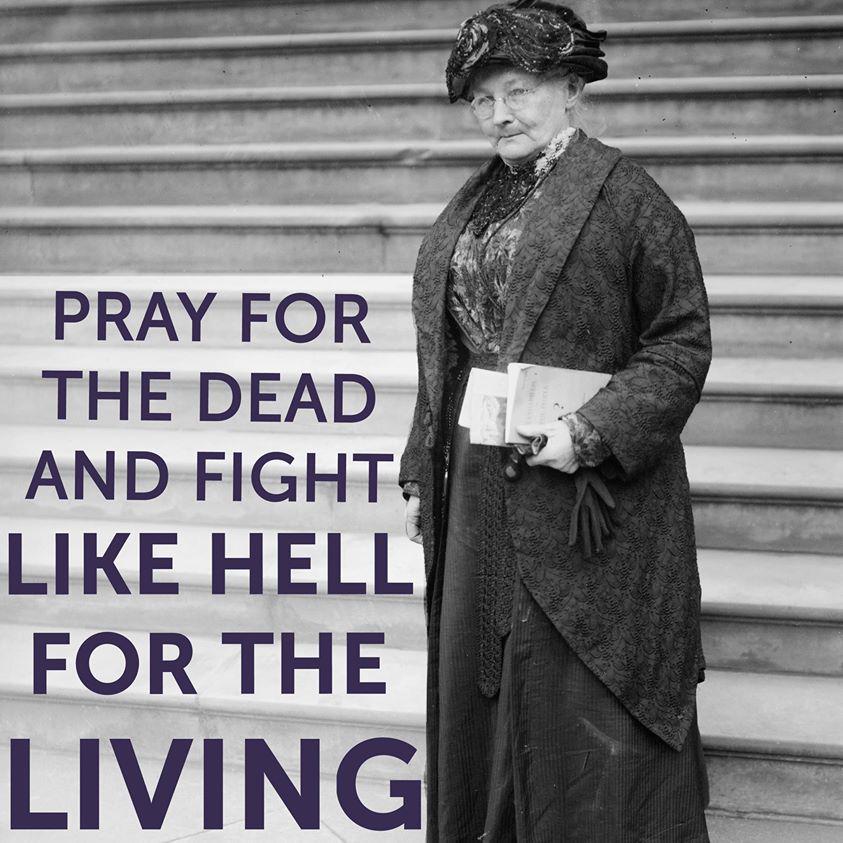 What I learned from this class is it is important to learn from history, in order to not repeat the wrong decisions or injustices from the past. Also, this idea can be related back to oneself, learn from your own mistakes you make in life and keep moving forward. Now, I will be more aware and mindful to the mistakes from the past in order to make a better future. Also, I am going to cherish my heritage more from now on because I have a greater sense of who my ancestors are and greater appreciation for what they had to face. Lastly, I am going to be more driven to find my passion and purpose in life, so I can make a difference like Mary. Going into a History class I thought it is done and over with why learn about it and I found the answer, and that is to apply the good the bad the ugly and use it what you learned in the future.